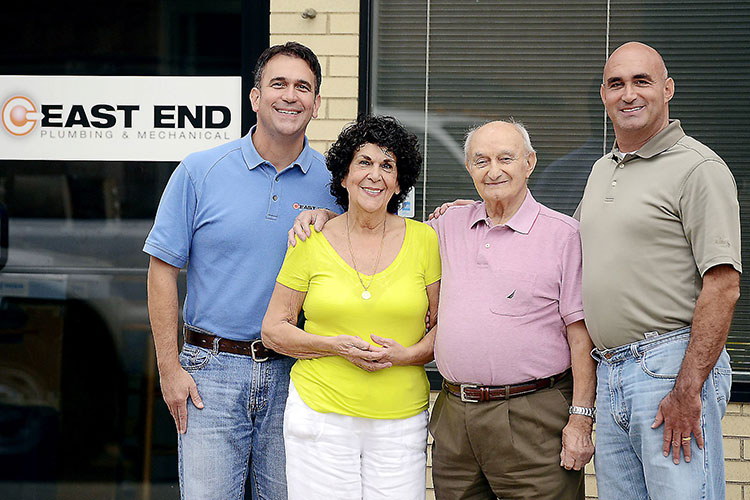 In 1957 East End was birthed with $4,000.00 in seed money Arthur V. Mascilli Sr. raised by cashing in a veterans life insurance policy. What seemed at the time to be the biggest mistake of his life turned out to be the greatest hedge any entrepreneur could ever make. More than 50 years later East End Plumbing & Mechanical averages a multi-million dollar annual backlog and an enviable client list throughout Southwestern Pennsylvania.
Arthur began his apprenticeship in Italy, at the age of 15, just prior to immigrating to America. After his arrival in America he enrolled in Connelly Technical Institute at the age of 17 to begin his 5 year academic training and formal apprenticeship in the plumbing trade. Upon completion of his apprenticeship he tested for and obtained his Journeyman license through the Allegheny County Health Department and just 1 week later received military draft orders to report for active duty as part of the Korean Conflict. He served in both the Construction and Combat battalions with the US Army Corps of Engineers where he quickly rose to the rank of Sergeant. He was honorably discharged from military service after being wounding during battle, receiving the combat decoration of The Purple Heart. Arthur's military experience in the Corp of Engineers further honed his construction expertise, but even more importantly developed him into a strong, confident and effective leader.
When he returned home he continued to develop his skill as a Journeyman and soon tested for and received his Master license. In 1957, at the age of 27, he opened up a small plumbing and heating shop specializing in residential service. Along with his wife Florinda and her disciplined approach to the company financials, building the business became a grass roots effort. As the company began to grow in its technical competence and by winning the trust of its customers, general contractors and architects, it began to take on larger and more complex projects. Today, East End directs its focus toward the commercial mechanical construction space in addition to rounding out its portfolio with a 24/7/365 service division.
To this day, Art is still actively involved in the estimating, technical consultation and project management of every job that East End is engaged in. Florinda, currently at the company's helm, still drives the financials and, business development of the firm.
In 2003 their sons Arthur Jr. and Anthony decided to come aboard on a permanent basis. Art Jr. holds a BA from the University of Pittsburgh and both an MS and MBA from Duquesne University. Anthony holds both a BA and MS from the University of Pittsburgh. In addition, they are both licensed as Master Plumbers through the Allegheny County Health Department. Both held a variety of executive and engineering positions with prominent local firms prior to their entrance into the family business. Together they bring a wealth of operations, finance, quality assurance and engineering project management expertise to the company.
At the core of East End are the values and work ethic of Arthur V. Mascilli Sr. Business done with integrity and a strong commitment to customers are more than just empty marketing buzzwords. In a family business they take on flesh and blood.
With the organizations strong foundation still firmly in place and the next generation on board, the Mascilli family is poised to take East End into its next 50 years and even beyond.